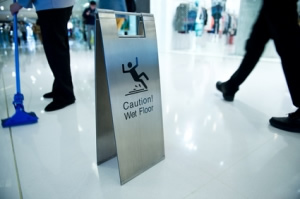 Have you had a slip and fall in Macomb County, Michigan? Many attorneys are rejecting valid claims because of a legal doctrine known as "open and obvious".    There are many situations where "open and obvious" as a legal doctrine is used by a premises owner/business owner to avoid liability after causing you injury.  However, there are many situations in which even "open and obvious" claims are still compensable if you have the right legal representation.
If you have a claim that was rejected by a lawyer based on the "open and obvious" doctrine and you are suffering from serious injuries, it is extremely important for you to have the facts and circumstances surrounding your injury reviewed by injury attorneys who understand how to avoid the "open and obvious" doctrine.
Thomas, Garvey & McKenna, PLLC has represented many victims who have suffered significant personal injury where the defense of "open and obvious" was raised.  We were still successful in getting them compensation for their injuries.  These claims are factual and it is important to have experienced personal attorneys representing you who understand the significance of all of the facts surrounding your injury to determine if it's possible to avoid the application of the "open and obvious" doctrine in the State of Michigan. You are entitle to be paid, even if the insurance company tells you it's Open and Obvious.
Macomb County Law Office Assists In Slip and Fall Cases
If you have had an injury on a premises where another attorney has indicated that the "open and obvious" doctrine applies, please give us a call at 586-779-7810 to schedule an appointment. We can accommodate any schedule with our evening and weekend appointments. Let us help you go after the compensation you are entitled to. Give us a call today.
Macomb County Law Office Assists In Slip and Fall Cases